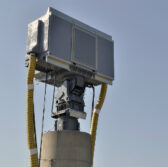 Raytheon will help the U.S. Navy design network-linked sensors for the branch's communication, electronic warfare and surveillance activities under an $8.5 million contract.
The Office of Naval Research picked Raytheon to build a flexible distributed array radar technology to detect targets and produce firm-track ranges, Raytheon said Tuesday.
ONR wants the FlexDAR system to have software-based digital architectures and to facilitate radar-to-radar time synchronization and bistatic control.
Raytheon will also build a pair of array antennas for installation and testing at the ONR's Chesapeake Bay Detachment facility under the InTop FlexDAR program.