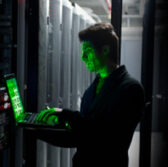 Mandiant has published a new report that analyzes the motives and targets of advanced threat attacks that occurred in 2013 and describes how malicious actors compromise enterprise data.
Data from the FireEye subsidiary's "Beyond the Breach" report indicates that 33 percent of organizations detected information security breaches on their own in 2013, compared with 37 percent a year ago, FireEye said Thursday.
The number of days that analyzed malicious programs were present on an enterprise system prior to detection slipped by an average of 14 days between 2012 and 2013, according to FireEye.
"Over the past year, Mandiant has seen companies make modest improvements in their ability to attack the security gap," said Kevin Mandia, FireEye senior vice president and chief operating officer.
Forty-four percent of phishing emails sought to mimic the targeted organizations' IT departments, the report said.
FireEye said Mandiant identified and responded to several private-sector cyber attacks last year that were associated with political conflicts or causes.