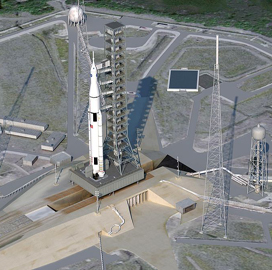 NASA's commercial partners have completed the design reviews of their respective spacecraft and rockets intended for the agency's program to transport mission crews to low-Earth orbit.
Blue Origin, Boeing, Sierra Nevada and Space Exploration Technology continue to develop space transportation systems and prepare for tests in 2014 under the second round of their commercial crew program agreement with NASA, the agency said Monday.
Kathy Lueders, acting CCP program manager, said the companies are working to meet development schedules for NASA to resume its space flights with American-built spacecraft.
Blue Origin concluded a design and assembly review of its small propulsion tank that is built to serve as booster for its Space Vehicle, while Boeing completed in February a structural review of its CST-100 spacecraft, which is comprised of the crew and service modules.
SpaceX also wrapped up an early design review of the ground systems for launching its Dragon spacecraft aboard the Falcon 9 rocket.
SNC will work to assess the wind tunnel test data of its Dream Chaser spacecraft and Atlas V rocket integrated stack configurations, as well as to perform reaction control systems and main engine motor tests.