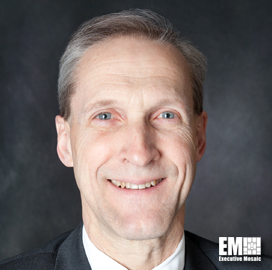 Jeff Trauberman oversees a diverse set of programs and projects at Boeing in his role as vice president of space, intelligence and missile defense for government operations.
The nearly two-decade company veteran overviewed his roles and responsibilities in a July 2012 conversation with ExecutiveBiz, where he also gave insight into the company's push for a greater footprint in the C4ISR and space markets.
He recently caught back up with us to give an update on how commercial satellite technologies have increased their presence in the U.S. space program and a step the Air Force took to greater leverage those tools. He also previews the future of the company's "hallmark" missile defense program with the Defense Department.
ExecutiveBiz: What are the main items that have been on your agenda in the last year?
Jeff Trauberman: My portfolio is space, intelligence, cyber security, and missile defense, and all of them have been very active focus areas for Boeing, as well as for myself.
In space, our satellite business has been very strong. We have a lot of core programs, things like the Wideband Global Satellite, GPS IIF and the X37 reusable space plane. And for NASA, we built TDRS relay satellites. So, we've done an awful lot in the world of satellites, and we've expanded and modernized our product line over the last year.
We have long had a very venerable product in our 702HP high‑powered satellite. We've now brought out newer models; a medium power satellite; a small, all‑electric satellite; and some even smaller satellites, called the Phoenix product line, really diversifying our products.
So my job has been to work with all of our customers to make sure they understand these capabilities and know how to use them. That's on the space side of things.
_ _
Within intelligence, we've continued to expand and invest in our electronics, cyber, and information solutions market. With about 170,000 employees, Boeing has a tremendous interest in cybersecurity.
We have people all around the globe on our global network. So we've spent a lot of time, and I've spent a lot of time personally, working with external and internal customers on the issue of enhancing cyber security.
In addition, we've continued to expand our cyber and information capabilities. We've acquired additional companies that are strong in these areas.
We have a Cyber Engagement Center in Annapolis Junction that we've used and I've spent a fair amount of time in the CEC demonstrating our capabilities to customers.
_ _
Finally in missile defense, we've continued to expand our work. There have been growing ballistic missile threats, requiring us to expand our work in missile defense.
Our Ground‑based Midcourse Defense (GMD) program is really the hallmark program that we have protecting the country against ICBMs, that is, long‑range missile threats.
The Department of Defense has announced additional interest in acquiring ground-based interceptors for that program, so we're spending a lot of time with our customers, knowing how to implement that and continuing to improve the GMD capabilities.
We're also doing a lot of work in directed energy and lasers, and that's also been an active focus area.
So it's been a very busy year across my portfolio, with a lot of customer activity despite sequestration and the shutdown. The mission needs continue to grow, and I've been very busy and proud to work with our customers on these program areas.
ExecutiveBiz: How will hosted payloads and other shared services feature in the U.S. Space Program going forward?
Jeff Trauberman: I think there's a very promising future. As you know, these hosted payloads, sometimes called piggyback or secondary payloads, allow customers to leverage the growing market for commercial satellites.
So, if a commercial satellite has available size, weight, power, and real estate, a hosted payload allows a government customer to get that capability at a much lower cost, and it saves these customers the expense of developing a satellite entirely on their own for a special purpose.
So we think it's a very attractive market. We've actually done several hosted payloads over the last few years. For example, with Intelsat we provided a hosted UHF payload on one of the satellites we built for them, and they in turn provided the UHF capability to the Australian defense forces.
I think the Air Force has realized the promise of hosted payloads and has set up a hosted payload office out on the west coast, and they're beginning to take steps to leverage this kind of capability. So, we're encouraged.
Being able to capitalize on commercial satellite technologies for the government is really a win‑win situation. We develop capabilities on the commercial side of the house that we can then apply to the government, and sometimes vice versa.
Our government customers are really looking for more affordable solutions. They're also looking for more resilient solutions, to be able to withstand and address the potential threats that might exist for space systems. These kinds of capabilities provide some good solutions for them.
ExecutiveBiz: What's the latest on the commercial spacecraft program for NASA?
Jeff Trauberman: We're continuing to make great progress on our commercial Crew Space Transportation 100, the so‑called CST100 capsule, for NASA. In the late spring, we evaluated our CST100 integrated model in some wind tunnel tests.
We've subsequently done some communications, ergonomics, and crew interface aspects of the capsule, showing how future astronauts will operate in the spacecraft as it transports them to the International Space Station and other low earth orbit destinations.
The next big milestone is the critical design review, scheduled this spring. We're very enthusiastic about the overall commercial crew effort and its prospects for the future.
ExecutiveBiz: What is your involvement with the Satellite Industry Association?
Jeff Trauberman: I was the Chairman of the Satellite Industry Association in 2013, which is one of several associations that help industry get its word out more effectively.
I was proud to represent the community of satellite industry leaders, to develop an updated strategic plan, to help refine the common interests of our members, to communicate those members' interests externally, to raise the scope and visibility of the satellite industry in the overall telecommunications industry, and to make sure it has a prominent role in the public policy and national deliberations on communications.
ExecutiveBiz: What attracted you to join Boeing and what are you most excited about going forward?
Jeff Trauberman: I continue to be attracted by the incredible talent and breadth of capabilities and opportunities in Boeing. We operate around the world in all domains: air, space, terrestrial, maritime and cyber, and work for a very broad range of government and commercial customers that I've had the privilege of working with.
I never wake up in the morning thinking there's nothing to do or that today will just be like yesterday. In a company like ours, the possibilities just seem endless and the customers' missions are vital. That's a real motivating factor for me.