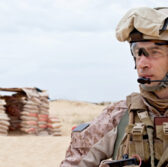 The Defense Advanced Research Projects Agency has selected Honeywell and SRI International to develop electronics that can easily break down once their useful life is over, Military & Aerospace Electronics reported Thursday.
John Keller writes Honeywell won a $2.5 million contract and SRI won a $4.7 million contract under the DARPA's Vanishing Programmable Resources program.
"DARPA is looking for a way to make electronics that last precisely as long as they are needed," Alicia Jackson, a DARPA program manager, told the website.
"The breakdown of such devices could be triggered by a signal sent from command or any number of possible environmental conditions, such as temperature," Jackson added, according to the report.
Honewell and SRI researchers will explore methods to integrate and manufacture transient devices in order to prevent usage of warfighter technology for illegal or unauthorized purposes, Keller writes.