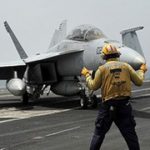 Boeing has added Northrop Grumman-built fuel tanks into a new version of the U.S. Navy"™s Super Hornet aircraft for a series of tests, Aviation International News reported Friday.
Bill Carey writes the new F/A-18F Super Hornet fighter jet includes the conformal fuel tanks and a new Raytheon-built radar system, as well as an enclosed weapons pod.
The demonstrations were intended to evaluate the aerodynamics and radar signature capabilities of the tanks in order to help address emerging threats, according to the report.
Mike Gibbons, Boeing"™s F/A-18 and EA-18G program vice president, told AIN development costs could reach close to $1 billion and work could finish by 2020.
The CFTs worked to increase the Super Hornet"™s operation radius by up to 130 nanometers totaling more than 700 nm, reduce the jet's radar signature and minimize aircraft drag, the report says.
Carey writes Boeing and Northrop  jointly leased a Navy Super Hornet for the demonstrations at both the Boeing defense facility near the Lambert St. Louis International Airport and the Patuxent River, Md.-based Naval Air Station.
The Advanced Super Hornet features an 11- by 19-inch Elbit Systems-built display, Gibbons reports.