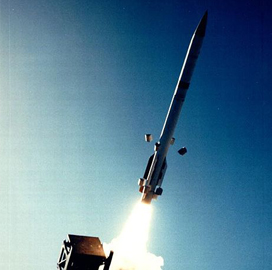 Raytheon and Rafael Advanced Defense Systems have asked the Defense Department to approve a planned integration of a U.S.-Israel funded missile system with the Patriot interceptor in order to meet military requirements, Defense News reported Saturday.
Barbara Opall-Rome writes the potential integrated system called Patriot Advanced Affordable Capability-4 intends to incorporate the Stunner missile into Raytheon"™s Patriot PAC-3 radars, launchers and engagement controls.
The Stunner intercepting system has been developed under the joint David"™s Sling and the PAAC-4 programs and is intended to replace the Lockheed Martin-built missiles for the Army and foreign customers, according to the report.
Citing an unnamed Israeli program official, Opall-Rome reports Raytheon could serve as the prime contractor under its existing partnership with Israel"™s state-owned company.
Under that agreement, at least 60 percent of the Stunner missiles are slated for production in the U.S., the report says.
The Missile Defense Agency and Israel"™s Missile Defense Organization jointly manage David"™s Sling program with the goal of boosting defense capabilities against rockets and ballistic missiles, Defense News reports.