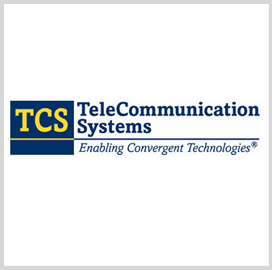 TeleCommunication Systems has won a potential five-year, $58.3 million task order contract to link deployed U.S. Marine Corps personnel with commercial satellite services.
This is the first order the company has won under a potential $2.6 billion vehicle awarded in August 2012 to eight companies by the Defense Information Systems Agency and the General Services Administration, TCS said Thursday.
TCS will provide managed satellite services, Ku satellite bandwidth, terrestrial support and 24-hour support services to the Marine Corps for the branch's Tactical Satellite Communications Network.
Michael Bristol, president of TCS' government solutions group, said the company has previously carried out wireless point-to-point links and commercialization projects for the Marine Corps.
The order is valued at $12.8 million for the initial base year and could reach the full value with four one-year options.
TCS will also aim to give the Marine Corps flexibility to increase bandwidth in one region and decrease bandwidth in another region under the order.