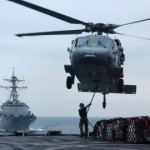 A joint venture of PAE and SNC-Lavalin has won a potential $400 million follow-on contract with a potential $400 million worth to provide logistics support to the Canadian military forces in Bosnia and Afghanistan.
This second iteration of the Canadian Forces Contractor Augmentation Program is for an initial five-year base period with two two-year options and an additional one-year option, SNC-Lavalin said Wednesday.
SNC-Lavalin PAE Inc. will help manage and distribute supplies, perform construction engineering, help supply and distribute power and provide road and ground services to the military.
The business will also perform administration, communications, equipment maintenance and food services support work.