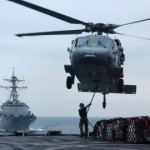 DynCorp International has partnered with Sierra Nevada's integrated mission systems unit to provide aircraft installation, maintenance and other services to customers and pursue new business opportunities in emerging markets.
The alliance will focus primarily on intelligence, surveillance and reconnaissance systems, fixed-wing aircraft and unmanned aerial systems, the companies said Monday.
DynCorp and Sierra Nevada will build a center of excellence in Huntsville, Ala., to work with customers such as the U.S. Army's fixed-wing program manager.
Tim Owings, corporate vice president of integrated mission systems at Sierra Nevada, said the company aims to expand its global footprint through the partnership with DynCorp.
Both companies bring more than 100 years of combined experience in aviation technologies to the alliance, they said.