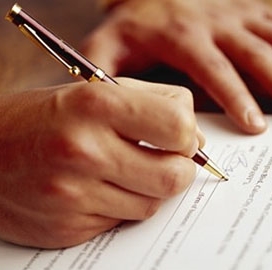 The U.S. Air Force and Army are set to release solicitations for three contracts potentially worth around $2 billion combined in May and has set those programs aside for small businesses, the Washington Post reports.
Ashley Bergander, a research manager for Deltek, writes the Air Force will issue two solicitations, one for intelligence services and the other for advisory and assistance services.
Deltek values the Advanced Technical Exploitation Program II contract vehicle at up to $960 million over eight years and the Technical and Management Advisory Services contract vehicle at $600 million over five years, Bergander writes.
Bergander writes up to four awards could be made for ATEP II and TEAMS could feature between five and seven awards.
The Army will accepting bids for a recompete of its Installation Geospatial Information Services program and Bergander writes the IGIS vehicle has four incumbent contractors.
Currently, the incumbent vendors hold $474 million combined in contracts and Deltek expects the recompete to either equal or exceed that value, Bergander writes.