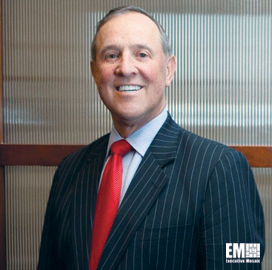 George Newstrom has served as general manager for Dell Services Federal Government"™s defense and national security business since October 2011.
He previously held the president and chief operating officer roles at Lee Technologies after serving as the Secretary of Technology for the Commonwealth of Virginia under Governor Mark Warner.
In that capacity, he advised the Governor on the effective use of IT in state government and the growth of technology in the global economy.
Newstrom recently caught up with ExecutiveBiz to discuss areas including the Dell brand, off-the-shelf technologies and the differences between working in the public and private sectors and large and small firms.
ExecutiveBiz: How does Dell recreate success from the private sector in the public sector, and what is your role in achieving that success?
George Newstrom: One of the very fortunate things about Dell is the brand, the brand identity that Michael's created for the time that we've been in business.  So, it doesn't matter whether it's commercial, public, federal, state, local, just being able to say that we're with Dell and involved with Dell is a very, very important differentiator.  It helps us not just to get in the door, but it also helps the credibility once we're in the door. Dell has a great reputation, not just for the products and services, but how we stand behind those products and services.
Executive Biz: What are the major differences in going from a company with revenue that is less than $200 million in Lee Technologies, to a company whose revenue is over $60 billion and employs over 100,000 people in Dell?
Newstrom: Where do I start? There are just many, many different things.  However, there are some basic fundamental things that are always the same, in my opinion.  And I came from another large company before that.  So, the basic fundamental things are, do you know your business?  Do you know your customers?  Do you have the right people focused on that business?  And are you really focused on the customer solution and the customer's problems versus what you have to sell?  And I think that transcends any business, especially the services business.  You really do have to know the client, what their issues are, what their pain points are, versus I have something to sell and let me sell it to you.
In small companies, it was delightful to be able to call a company meeting and have all 300 people either in a room or on a telephone very quickly versus having 100,000 people all over the world. So, that's easy.  But, the nice thing about a large company is the resources and the capabilities that we have to apply to what our customers are doing.  And that's really important.  We really have critical mass that I didn't have in the small company before.
ExecutiveBiz: How do you achieve mission critical goals in such a large setting?
Newstrom: You've got to be a much more sensitive–intuitive about how the business is done, and where it's being done.  You have to be substantially more collaborative about how you work with your colleagues.  When I was in the small company, everybody knew everybody, knew how to get along, and knew what departments there were.  I'm still learning some of the areas that we're involved in here.
So, being able to be much more collaborative in this type of setting is extremely important.  Knowing the history of how we got to where we are right now, not just as a corporate history, but clients. We've got some really long-term clients. We're going to get to that in the next question I believe.  But, having long-term clients is really important.  Why are they still with us?  What do we need to do to keep them with us is extremely important.
ExecutiveBiz: What future role will commercial off-the-shelf technologies play in the public sector, and how is Dell helping your customers maximize the use of that technology?
Newstrom: If you take off-the-shelf and include computer hardware and if you think about what Michael established 28 years ago; the capability for us to go into any marketplace with a very reliable solution.  Now, it is an end-to-end solution.  We can be at the laptop and the desktop, the datacenter, high-end consulting, and do the entire service for you.  I can run the whole IT infrastructure if you would like.  So, now, we are far beyond just the hardware component of it.  We're into the business solutions component of the whole thing.  What the government wants to do is take every capability that they can, whether it's hardware, software, commercially available, or specifically created for them, and apply it to their solution and business issues.  I just heard a speaker this morning at your event and she was in government.  She replied to a similar question by saying, "We use every capability the commercial world has.  And not only do we have our own capability, but we use every commercial capability that is available to us and bring it together so we have the solutions to customers.  Customers can be the Army, the Navy, the DOD, or public citizens so they can do the best job in serving those."
ExecutiveBiz: How do you apply your previous public sector experience to your current position?  And do you have any tips or recommendations for public officials planning to move?
Newstrom: I spent three years working for Governor Warner when he was elected there.  And I have been in government for a long time in my career.  I had to learn the inside of government.  It works in a different way.  The issues are different.  The pace is different.  The main job of that entity, a government entity, is making sure that they apply their resources to serve their clients–their clients being citizens, soldiers, and sailors.
In private sector, our job is to make sure that, A, our customers' needs are met and, B, that we add value to stockholders, especially if we are in a public company that we add value to stockholders.  So, it's a truly different world they're in.  For anybody that wants to make the move from public to private and, frankly, the other way around–my advice would always be just understand that there are different priorities.  There are different motivations.  There are certainly different incentives for doing one versus the other.  Go into it with your eyes open.  Ask a lot of questions.  Ask friends that have done that one, again, both ways, and see how they react.  And if it's right for you, go for it.